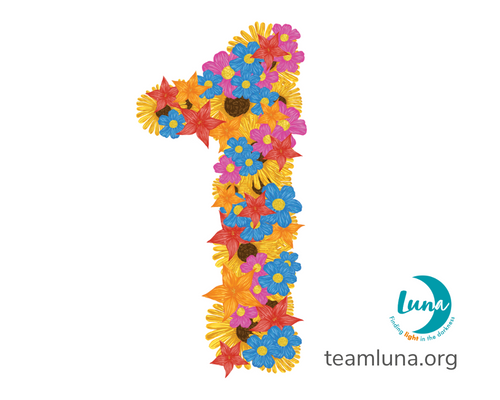 Luna marks first anniversary of work to improve support for children & young people bereaved by parental suicide
Luna Foundation celebrates its first anniversary today, marking 12 months of progress in our mission to improve support for children and young people bereaved by parental suicide.
Luna was established on 17 March 2022 by Anna Wardley. Anna's father, Ralph, took his own life when she was nine. The lack of effective help at the time and the consequent impact on her life, led her to research existing and best practice in this area. She launched Luna to implement her findings and recommendations.
Celebrating progress
Luna's first year of operation has seen considerable progress in our mission to shine a light on parental suicide and to improve support available to children and young people.
Luna is already working in partnership with several local authorities to deliver training, develop resources and supply policy templates. Luna Suicide Bereavement Training, developed for people who work with children and young people, has been commissioned in seven regions including Milton Keynes, Bedfordshire, Luton, Kent, Medway, Portsmouth and Greater Manchester. In addition to this, this year we will roll out the Luna Suicide Impact and Bereavement Policy which has been developed for education settings.
Lived experience is in Luna's DNA. Our Luna Lived Experience Network is a growing group of people who lost a parent to suicide during childhood. Their input has informed both the Luna Suicide Bereavement Training and the Luna Suicide Bereavement Guides which we have developed for professionals and families.
We've launched our TeamLuna.org website, which includes The Hub, a valuable and expanding library of resources focused on supporting young people after suicide bereavement.
#TimeToCount
Towards the end of 2022 Luna launched the #TimeToCount campaign to count the number of children impacted by parental suicide. It is estimated that approximately 9,000 children and young people lose a parent or primary caregiver to suicide in the UK every year, although currently no official figures are collected or published. It is vital that we know the true extent of the issue in order to provide compassionate and effective support.
To this end, Anna, Luna's CEO, is working with Dame Caroline Dinenage MP to highlight in Parliament the needs of children who lose a parent to suicide.
Last December Anna also delivered a powerful and acclaimed talk on BBC Radio 4's Four Thought programme – which was also selected for Pick of the Week – entitled After a Parent Dies by Suicide. If you missed it, you can listen again here.
We're marking our first birthday at an event at RSA House in London today (Friday 17 March), to celebrate our achievements thus far and set out ambitious nationwide plans for the next three years. We're bringing together commissioners, politicians, media, aligned organisations, funders and Luna's own team, including members of our Luna Lived Experience Network and voluntary non-executive board members, Ellen Hatto and Frank Fletcher.
Ambitious plans to transform support for suicide bereaved children
Luna CEO Anna Wardley said, 'I want to express my sincere gratitude to everyone who has contributed to the success of Luna's first year. To our wonderful Luna Lived Experience Network members who bring their wisdom and experience, to those who've made generous donations and the organisations who provided the funding to get Luna off the ground, including The Churchill Fellowship, the RSA, Shackleton Foundation and Headley Trust; and the local authorities who have already put their trust in us to deliver effective Luna Suicide Bereavement Training programmes to professionals working with children in their areas. We are immensely grateful for all the support we've received in these first 12 months, as it's allowed us to hit the ground running.
'I'm so proud of all Team Luna has achieved in our first year and I'm extremely excited about everything we plan to do in the next three years. I do not underestimate the magnitude of the challenge that lies ahead. Our plans to transform the support available for suicide-bereaved children the length and breadth of the country are ambitious but that transformation is important and urgently needed and Luna is up for the challenge.'
Luna's priorities for the next three years are to offer Luna Suicide Bereavement Training in nine of the 12 UK regions; to develop the Luna Ambassador network of people who have completed the training and are committed to improving support for children bereaved by suicide; to expand and increase the diversity of the Luna Lived Experience Network to ensure all communities impacted by suicide are represented; and to raise awareness of the support needs of children and young people bereaved by suicide by driving forward the #TimeToCount campaign to ensure we count those impacted by parental suicide.