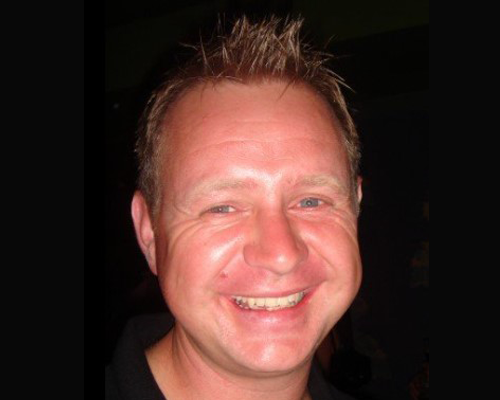 Introducing members of the Luna Lived Experience Network: meet Simon
The Luna Lived Experience Network is a group of people from all walks of life who have one thing in common: they all lost a parent to suicide when they were a child or young person.
The Network is a vital part of Team Luna and the lived experience of its members will help inform and shape the work of Luna Foundation in our mission to improve support for children and young people bereaved by parental suicide.
Simon Millington from Broadstairs in Kent is one of the founder members. He's a football coach educator and coach developer for The FA and is passionate about utilising sport as a vehicle for social change.
He says, 'I'm a football coach tutor and mental health first aider and the reason that I combine them both is because, as well as my dad, I've lost ten friends to suicide and I want to play my part and use my tutoring skills to reduce the number of people who go on to complete suicide.'
It's also the reason he's drawn to the Luna Lived Experience Network.
'I was told my dad died of a brain tumour'
Simon was born in Birmingham but moved to Portsmouth after his parents separated and his father then took his own life
'I was told my dad died of a brain tumour,' Simon says. 'This made me think this was hereditary and I might get one. It eroded my trust in what my mother tells me.
'I want to play my part in changing the conversation and stigma around suicide, and I want to help people to support each other through this very challenging situation.'
As with many children and young people working through their very complex grief after losing a parent to suicide, Simon developed more risk-taking behaviour and, in late adolescence, found himself in trouble with the police for petty crime.
His brush with the law proved to be the turning point, driving Simon to change his peer group and lifestyle and get into football as a part-time coach. He worked in social inclusion projects within Portsmouth where he grew up because he wanted to help other young people avoid straying into criminality and to take more positive steps towards getting a job.
Football coaching suited him and Simon racked up the coaching qualifications, moving to London, where he followed his passion for supporting young people and coaches from disadvantaged backgrounds. He also completed an Open University Foundation Degree in Sports Coaching to formalise his knowledge and to deepen his understanding of every element of sports coaching. He took a role with The FA that had been created to target teenage boys and girls who'd dropped out of football. It was at this time that he began delivering coaching courses to grassroots football clubs, something that developed into his dream role, being able to influence greater numbers of people to take a player-centred approach to coaching and player development.
A PGCE in Sports Coaching at Worcester Uni further developed Simon's understanding of learning and development, confirming to him in the process that his experience of educating coaches wasn't best practice. It helped him further refine how he developed the coaches he worked with.
In 2019 a close friend of Simon died from suicide. It hit him hard and inspired him to use his tutoring skills to teach Mental Health First Aid courses.
He completed his training with MHFA England and started tutoring youth and adult mental health first aid courses. Having been made redundant by The FA during the pandemic and needing to find another income source, Simon began delivering more mental health courses online and also began assessing professional football scholars for their Sport in Excellence course.
'Life will always throw challenges at us'
One of Simon's favourite sayings is, 'a sailor doesn't become skilled in calm waters.'
He explains, 'I believe that life will always throw challenges at us, we just have to learn to navigate them skilfully.'
Channelling that ethos, he and a colleague have designed an NCFE Cache Level 1 in Mental Health Awareness and Sports Leadership. The course is for anyone aged 14+ years and combines everything that Simon is passionate about: mental health, sports and supporting young people to improve their mental health and wellbeing and their life skills.
Lived experience is in the DNA of Team Luna and we're thrilled Simon has joined us as a member of the Luna Lived Experience Network.
Network facilitator Clare Foster says, 'The Luna Lived Experience Network brings together people who have lost a parent to suicide. Network members inform and guide the work being done by Luna, share their stories and work with other members to improve support for children bereaved by parental suicide. They also take on important paid work for Luna, facilitating training and reviewing content. As well as their own lived experience, our members bring a wide range of skills to the group. It's wonderful to see it growing as Luna's reach expands and we hope it will continue to do so as more people with lived experience come forward.'
Find out more about the Luna Lived Experience Network
The next Luna Lived Experience Network information session is on Tuesday 14 March at 12 noon. It's for anyone who lost a parent to suicide as a child or young person up to the age of 25, who is keen to use their own experience to improve the support for others. It's online, lasts about an hour and you'll be able to ask questions. You can reserve a place here to find out more about the Network, its work, and whether it is a good fit for you.
Please be aware this is not a direct support group but we can provide information of other organisations if that is what you are looking for at the moment. There's also a wealth of information in The Hub that you may find useful.