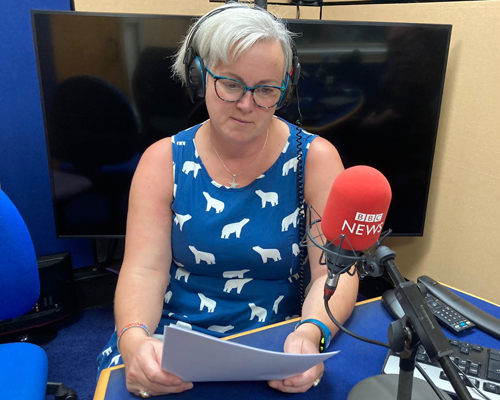 Luna launches #TimeToCount campaign in BBC Radio 4's Four Thought
Luna Foundation CEO Anna Wardley is calling for better support for children who lose a parent to suicide, starting with a campaign to count the children impacted by parental suicide, launched in a programme recorded for BBC Radio 4.
In the episode of Four Thought to be broadcast on Wednesday 7 December, Anna shares her own experience of losing her dad to suicide when she was nine years old and how that has led her to setting up Luna to improve support for other children and young people who find themselves in a similar situation.
In the programme, Anna describes herself as one of the 'countless' children who lose a parent to suicide each year. She uses the term 'countless' as nobody counts the number of children in the UK who are bereaved by parental suicide each year and is now campaigning to change this.
In the course of her research for her Churchill Fellowship, Anna discovered children whose parent dies by suicide are more than twice as likely to be hospitalised with depression and three times as likely to take their own life. Most shocking of all, though, is that nobody actually counts these children, estimated to number more than 9,000 each year.
The #TimeToCount campaign is founded on Anna's own international research for her Churchill Fellowship. The report entitled Time to count: supporting children after a parent dies by suicide contains her findings from research carried out across three continents and two years, and has inspired her to create Luna Foundation to improve the support for children left behind after suicide.
After a Parent Dies by Suicide will be broadcast on BBC Radio 4 at 20:45 GMT on Wednesday 7 December and repeated at 05:45 on Saturday 10 December.
It will also be available on BBC Sounds and on the BBC website.
LUNA LIVED EXPERIENCE NETWORK
Luna is currently growing its network of people with lived experience of parental suicide to ensure a diverse range of experiences guide and inform its work. Next week on Thursday 15 December between 12:30-13:30, an online information session is being held for people keen to influence change who are interested in joining the Luna Lived Experience Network. For more information click here.